"Retconning" History.
"Retconning" is a term of art used in the comic book geek community as shorthand for "retroactive continuiity." "Retroactive continuity" is the device used to keep a comic book character's current status consistent with his past. For example, Captain America is perennially 30 years old, which would impossible with his being defrosted from the polar ice in 1963, as was the case when Cap made his first appearance. So, the pragmatic strategy is simply to ignore the original versions of the story, and "retcon" Cap's discovery as occurring later and later.
Here is a fascinating example of "retconning" by leftist journalists who need to make the modern story line that Republicans have always been southern racists consistent with, you know, historical facts.
MSNBC identifies George Wallace as a Republican.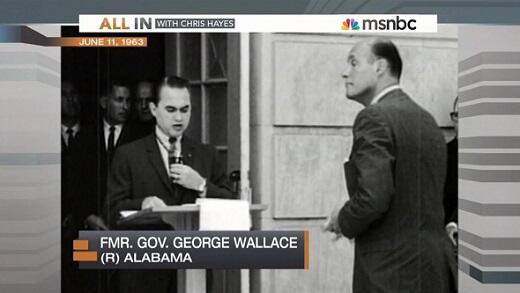 The Ministry of Truth couldn't retcon any better than MSNBC.